As some of you know we are returning to the studio this month to record the follow up to 2008's CITIZEN BRAIN.The new LP, TALES FROM THE GRAVE IN SPACE will be released online on Nov 5th for FREE!

So anyone,anywhere can grab this sucker on Nov 5th completely free of cost at:



http://www.earache.com/gamabomb



want to know why?check out Philly's rant:



http://www.youtube.com/watch?v=Y0jFPO4leVQ




I will post the tour dates as they come in starting with:

UK/EURO headlining dates

05 Nov 2009 - Huddersfield, UK - Parish
06 Nov 2009 - Birmingham, UK - Hellfire Festival, NEC Arena
07 Nov 2009 - Peterborough, UK - Club Revolution
08 Nov 2009 - London, UK - The Underworld
09 Nov 2009 - Bristol, UK - Bier Keller
11 Nov 2009 - Nottingham, UK - Seven
12 Nov 2009 - Colchester, UK - Twist
21 Nov 2009 - Hamme, Belgium - Hammerfest
28 Nov 2009 - Giessen, Germany - Thrash Inferno Festival, Hessenhalle
Pittsburgh, Pennsylvania-based old-school metallers MANTIC RITUAL have parted ways with singer/guitarist and founding member Dan Wetmore.

Commented the band in a statement: "After much consideration, Dan has decided to no longer continue with MANTIC RITUAL. We are greatly appreciative of his tremendous contributions to the band and wish him the best in his future endeavors.

"For the upcoming tours this fall, our good friend Dave Watson will be filling in as singer/guitarist. We've known Dave for quite some time, and besides being a killer musician, he's an outstanding sound engineer as well (he mixed our 2007 self-released demo, 'Executioner'). We have no doubt that Dave will be a perfect fit for us these next few months, and that the band will continue delivering fist-pumping rock 'n' roll like it's 1955."

Added Dan Wetmore: "It has been hard for me to make this decision as I love Adam, Ben, and Jeff and the music we've made together. I've always been dedicated to the band and truly enjoyed playing and writing material. Still, I've had the desire to focus on photography for quite some time and I don't see myself spending life on the road. It is my personal choice to leave the band and return to school. Despite conflicting feelings, I know currently this is the best decision for me. The outcome is very hard to face, as I've enjoyed the past five years and progress we've made. I'm sure some might think I'm crazy or stupid, but I'll eat that. The guys are dedicated and I'm positive they'll do well with Dave taking my place. All the best to them, they're my pals."

All scheduled shows will take place as planned.
GENERATION KILL
, the new crossover outfit featuring
EXODUS
frontman
Rob Dukes
, has released its first demo track,
"Hate"
, via the band's official MySpace page:
http://www.myspace.com/officialgenerationkill


According to a press release,
GENERATION KILL
— whose lineup also includes
Rob Moschetti
(ex-
PRO-PAIN
,
M.O.D.
) on bass and
Sam Inzerra
(
MORTICIAN
) on drums — is currently in the studio working on more material and preparing to do a small East Coast tour later in the year.

Commented
Moschetti
: "I think this is the best shit I have ever done. If you like the studio recording, prepare to be blown away by our live show."


GENERATION KILL
is:


Rob Dukes
- Vocals

Rob Moschetti
- Bass/Backing Vocals

Lou Lehman
- Lead Guitar

Jason Trenczer
- Lead Guitar

Sam Inzerra
- Drums

According to
GENERATION KILL
's official bio, "The original concept of the band was to break away from the current formula. By embracing their roots and incorporating them into the project,
GENERATION KILL
is a true crossover band. Each song has its own identity, and mood, which gives the band its original sound without abandoning their influences.

"By adding two lead guitarist/song writers to the band, a whole new dimension has been introduced to
GENERATION KILL
. While
Jason Trenczer
adds technical guitar work,
Lou Lehman
adds catchy riffs and solos.

"The final ingredient to the band is veteran drummer
Sam Inzerra
.
Sam
has a death metal background which adds speed and power to the project. Each member of the band takes part in the writing process. While each member has established himself in legendary and underground bands, let it be known that this is no side project."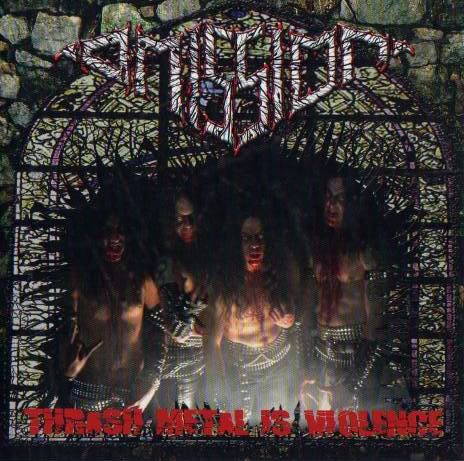 Here are samples from every song of the upcoming Skeletonwitch album Breathing the Fire:


http://www.amazon.de/Breathing-Fire-Skeletonwitch/dp/B002IJQ3FC/ref=sr_1_2?ie=UTF8&s=music&qid=1253277199&sr=8-2



Greek old-school thrashers
SUICIDAL ANGELS
and Swedish metallers STEELWING (formerly SCAVENGER) have been awarded record deals with
Boomer Entertainment
and
Nuclear Blast Records
as part of a band contest launched by the Austrian management and booking company
Rock The Nation
.

This unique competition was presented and promoted by all leading European metal magazines, including the German, Italian, Spanish and Greek editions of
Metal Hammer
;
Terrorizer
(U.K.);
Metallian
(France);
Scream
(Norway);
Rock Tribune
(Belgium);
Spark
(Czech Republic); and the Dutch webzine
LordsOfMetal.nl
.

"The high interest [exceeded] all our expectations," says
Rock The Nation
boss
Stefan Hattinger
. More than 1,200 bands from all over the world participated in the contest, and hundreds of thousands of votes were counted. "It made the
RTN Award
a tremendous success and proves that this is what the bands have been waiting for," he adds.

The 100 bands with the most votes were judged by an "inner circle" composed of staff members from
Rock The Nation
,
Boomer Entertainment
and
Nuclear Blast
. In the end, there wasn't only one, but two winners!

"We are more than happy to win this contest," says
SUICIDAL ANGELS
vocalist and guitar player
Nick
. "We will do our best to reciprocate all the trust we received.

"We would like to thank
Stefan
and
Rock The Nations
, all the guys from
Boomer Entertainment
and
Nuclear Blast
for giving us this unique opportunity.

"Prepare to be thrashed, thrash till death!"


http://www.myspace.com/suicidalangelsgreece
We are working on a reunion for next year with the one and only Albert Gonzales on guitar!! Right now, plans are to play in Europe next year and we'll see what happens in the interim. I can't wait! It's going to be amazing!

For the time being please check out :
EVILDEAD RADIO-
Evildead will be featured this Saturday on KKSM Radio here's the link:
http://www.palomar.edu/kksm/
between 10PM - 2AM (streams on the internet).

More news to follow!
Excited!
-Rob
http://www.myspace.com/viothrash


A new song is available on their myspace page, entitled Deadly Sadistic Experiments.
They've been around for a while but only just now put a song up, and it's pretty tasty. Check it out. Sounds kinda like late-era Sepultura, but not in a bad way. Chaos AD-ish.


http://www.myspace.com/nuclearhecatomb
MUNICIPAL WASTE has recently announced the "WASTE THE WORLD TOUR 2009" with support from GOATWHORE from 11/06-11/16, THE ACCUSED from 11/18-12/03, BRUTAL TRUTH from 12/04-12/11, PHOBIA and CAULDRON on all tour dates. The complete schedule including some new dates is as follows:
11/06 - Raleigh, NC @ Volume 11 Tavern
11/07 - Atlanta, GA @ Drunken Unicorn
11/08 - Orlando, FL @ Backbooth
11/09 - Tampa, FL @ State Theater
11/11 - Houston, TX @ Meridian
11/12 - Austin, TX @ Red 7
11/13 - Oklahoma City, OK @ Conservatory
11/14 - Denton, TX @ Rubber Gloves
11/16 - Tempe, AZ @ Clubhouse
11/18 - San Diego, CA @ The Casbah
11/19 - Los Angeles, CA @ Key Club
11/20 - Anaheim, CA @ Chian Reaction
11/21 - San Francisco, CA @ Slim's
11/23 - Portland, OR @ Satyricon
11/24 - Seattle, WA @ El Corazon
11/25 - Bellingham, WA @ Wild Buffalo House of Music
11/27 - Edmonton, AB @ The Starlite Room
11/28 - Calgary, AB @ The Warehouse
11/29 - Winnipeg, MB @ Pyramid Cabaret
12/01 - Minneapolis, MN @ Triple Rock
12/02 - Chicago, IL @ Subterranean
12/04 - Detroit, MI @ Magic Stick
12/05 - Cleveland Heights, OH @ Grog Shop
12/06 - Toronto, ON @ Opera House
12/07 - Montreal, QC @ Foufounes
12/08 - Worcester, MA @ Palladium (Upstairs)
12/09 - New York, NY @ Gramercy Theater
12/10 - Philadelphia, PA @ First Unitarian Church
Tales From The Grave In Space
and will be released
November 5th
. Awwwright!
They've also stated that one of the new songs is called Apocalypse 1997. Looks to be about Terminator.
"The Ultimate Abomination"
, the debut album from Puerto Rico's speed/thrash metal band
SACRILEGIO
, is available for streaming in its entirety on the band's
MySpace page
. The stream will be available for the next two days — until August 15.
"The Ultimate Abomination"
is scheduled for release at the end of August through
Khaosmaster Productions
. The CD was recorded at
Noise Of Fire
studios (
DANTESCO
) and mixed and mastered at the
Sonic Train
studios in Varberg, Sweden with
Andy La Rocque
(
KING DIAMOND
).
"The Ultimate Abomination"
features the following ten songs:
01.
The Traitor
02.
Karma
03.
Beyond the Darkness of the Night
04.
Pagarán con Sangre
05.
Zona Cero
06.
Shadows of Fear
07.
Gods of the Underworld
08.
Lepanto
09.
Dark Purity
10.
Abominations of Desolation
Formed in 2003,
SACRILEGIO
has shared the stage with such bands as
TESTAMENT
,
DEADLY BLESSING
,
OMEN
,
STRIKEMASTER
and
DANTESCO
.
Posted on the band's MySpace:


Yes its true. Ruben(Boobie RAD RUDO) whatever you wanna call him. Is leaving BBB due to personal reasons. There is no bad blood between us and we will miss him. He is more than a band mate to us he is our brother. If any of you have ever met the guy you know he is the life of the party. To 4 great yrs we have had together. We love you and wish you the best. Please come say goodbye to our good friend on Aug 1st.





On a side note. This will not stop or break BBB. We have already found a bassist who will be named shortly after the Aug 1st show. Ruben himself is teaching him the songs. We are also working really hard on album number 2. It will sure to break some faces.
California thrashers Anger As Art have issued the following recording update:
"So, here it is, Saturday AM. Looking back on the last 2 weeks, it is hard to believe that so much has been accomplished in such a short period of time, and with such good results.
"I went in on Tuesday, feeling... well, not sick, but just kind of funky. Motivation and all was correct, knocked out 6 songs. Back in on Thursday, did my last 4, had Danny do his vocal parts, and we nailed it. We go back on Monday to start hitting guitar solos, and gang backing vocals. Honestly, we will start mixing by next week. We are so far ahead of schedule and budget (still are on this day anyway... lol). I honestly think that we can be finished with mixing by August 20. I don't think I have EVER done a full length album in exactly one month. Again, we are not racing the clock - it is just going that smooth!
"More updates as they happen!"
Kenosha, Wisconsin-based thrashers LaZarus A.D. have been forced to pull out of the final four dates on the "Baptized in Beer" tour with BISON B.C. "due to an accident."
LaZarus A.D. says in a statement, "Unfortunately, Dan Gapen [guitar, vocals] broke his hand last night in Vegas and will not be able to play the remaining shows. We apologize and look forward to seeing you all on the next tour."
Affected dates:
Jul. 30 - Anaheim, CA @ Chain Reaction
Jul. 31 - San Jose, CA @ Voodoo Lounge
Aug. 01 - Portland, OR @ Ash St Saloon
Aug. 02 - Seattle, WA @ El Corazon
Scott Hedrick, the band's guitarist, commented on the cover, "The art really sums up the new album and what drew me to heavy metal in the first place: it's brutal, evil, and in a sadistic way, it's fucking fun! Breathing the Fire is meaner, faster, and far more sickening than Beyond the Permafrost, and the art reflects that. We went for the jugular, and so does Andrei's art. He did an amazing job. It's fucking killer when the artist and band share a similar approach: organic. Blood and sweat, ink and paint, tubes in amps, and non-triggered drums. A set of balls. Not gym shorts, sterile computer generated art, effects pedals and redundant arpeggios."
The band will be touring with Black Dahlia Murder in support of Children of Bodom in September and October. The tour dates are as follows:
September 18 - Lupo's Heartbreak Hotel, Providence, RI
September 19 - Starland Ballroom, Sayreville, NJ
September 20 - Northern Lights, Clifton Park, NY
September 22 - Theatre Capitole, Quebec City, QC
September 23 - Metropolis, Montreal, QC
September 25 - Elements Night Club, Kitchener, ON
September 26 - Sound Academy, Toronto, ON
September 27 - House of Blues, Chicago, IL
September 28 - Epic, Minneapolis, MN
September 30 - The Garrick Centre, Winnipeg, MB
October 01 - Odeon Events Centre, Saskatoon, SK
October 02 - MacEwan Hall Ballroom, Calgary, AB
October 03 - Edmonton Events Centre, Edmonton, AB
October 05 - Commodore Ballroom, Vancouver, BC
October 06 - Showbox at the Market, Seattle, WA
October 07 - Roseland Theatre, Portland, OR
October 09 - Regency Center @ The Grand, San Francisco, CA
October 10 - The Glass House, Pomona, CA
October 12 - Marquee Theatre, Phoenix, AZ
"The sessions with John Haddad at Trench have really exceeded my expectations thus far. I had worked with John about 5 years ago on a project that never was completed... nothing that was his or my fault. Others involved, not really important. But to get the tones we have, the performances we have, and to really capture band energy while multi-tracking... it is amazing.
Rob came in and just blasted his tracks out - most in one take. I started guitar tracks on Tuesday, finishing Wednesday morning. Then Dan came in on Wednesday - we were so far ahead, we took Thursday off. Danny finished his tracks Friday, then Angelo did bass tracks and finsihed on Friday. There was no effort to rush anything - it just flowed that way. Not that money or budget is an issue (yet, LOL) but we are easily a week ahead of schedule. I will go in on Monday or Tuesday and start doing vocal tracks - then Danny do his vocals, then guitar solos, then one more day to recruit a gang choir to do the group background vocals on a few songs like Seed Of Hate, The Crush, Disfigure... a couple of others. Doubtful that we will complete the recording by next weekend, but we will be very damn close. No doubt we will be done by Labor day with everything!"
"I can tell you something - when you fight an uphill battle to achieve your goals, specifically when recording music you wrote... if you can harness that emotion and channel it into what you are doing, you will win. This recording as it stands right now (with no vocals or guitar solos) is more alive sounding than Callous And Furor, and I love Callous. But- there was a struggle to do this one. A positive struggle - a fight for what you believe, other than a fight to have others understand. These songs have existed since before any of these 3 guys joined the band, and in rehearsals I was just liking them, but wasn't feeling it! Now with Angelo, Rob, and Danny you cannot help but feel these songs. Same arrangements in most cases, but the vibe is amazing. I have always said that I will go however far I needed to go to find the right studio - whether it was down the hall from my rehearsal room, the mountains in Malibu, or in the inland empire. Some guys flat refused to drive east of the 57 Freeway (what was the quote? 'Geez, just say it Steve'. Well, I just said it). It was and is totally worth it!"
Irish thrashers GAMA BOMB recently played at the notorious Hellfest in France as part of their Summer festival run, with cameras there to capture the performance.
GAMA BOMB vocalist PHILLY BYRNE comments, "Hellfest was probably the most fun I've ever had at a festival or show, seriously. The gig was 20 times bigger and better than I'd hoped, and I spent the rest of the day sitting in the sun drinking. They had this beer called Wolf Balls, and they gave us a bottle of Jack Daniel's, and this other stuff that tasted like the water in a toothbrush mug. We drank it anyway. At one point the guy from Papa Roach was at the bar beside me. I couldn't stop laughing."
Check out video footage of GAMA BOMB's performance at Hellfest: Part 1, Part 2, and Part 3
Catch GAMA BOMB live at the following festivals this year:
08 Aug 2009 - Jaromer, Czech Republic - Brutal Assault Festival
28 Aug 2009 - Belfast, Ireland - Warzone Fest
21 Nov 2009 - Hamme, Belgium - Hammerfest
28 Nov 2009 - Giessen, Germany - Thrash Inferno Festival
In early 2006, Spike Cassidy, guitarist and founding member of D.R.I., was diagnosed with colon cancer. He underwent surgery (a one-foot section of large intestine was removed through an eight-inch incision in his stomach on March 27, 2006), radiation and chemotherapy and is said to be winning the battle against the disease.
For the past 27 years, D.R.I. has been the epitome of the aggressive, hardcore-punk thrash sound that we've all become accustomed to hearing. Throughout this time, they've been one of the few genuine underground bands to remain true to their pure punk roots. Still actively touring and recording, the only thing that may have changed is that they're a little older now, but time hasn't gotten the best of the Dirty Rotten Imbeciles. They're still thrashing just as hard, and just as loud as ever, continuing to overload our senses with the sound that is, and will always remain, uniquely D.R.I.
Colorado thrash metallers Havok have announced a North American tour to support their brand new debut album, entitled Burn. Incredibly talented band with a GREAT first album, I urge anyone in the cities listed below to attend!
Havok @
MySpace!
7.27.09 *** "Burn" in stores - EUROPE ***
8.06.09 3 Kings Tavern w/ Saviours (21+) Denver, CO
7.07.09 The Compound w/ Dread, Tedbrudos, Vetalas Albuquerque, NM
8.19.09 Sandrini's w/ Mobius Dick (21+) Bakersfield, CA
8.20.09 The Bunkhouse (21+) Las Vegas, NV
8.21.09 UB's Bar w/ PinHed (members of Divine Heresy, Mushroomhead) Mesa, AZ
8.22.09 Vaudeville w/ The Besmirchers, Limbless Torso, Chainsaw Justice Tucson, AZ
8.24.09 FREE SHOW @ Music Trader w/ Nihilist San Diego, CA
8.25.09 Royal Dive (21+) w/ Nihilist Oceanside, CA
8.26.09 Pharoah's Den w/ Witchaven, Nihilist, Kombat Riverside, CA
8.27.09 Pizza Factory w/ Witchaven, Nihilist, Kranial Damage Modesto, CA
8.28.09 Four Eighteen Project w/ Witchaven, Nihilist Santa Cruz, CA
8.29.09 Kennel Club w/ Psychosomatic, Cheapskate Sacramento, CA
9.04.09 Thee Parkside w/ Hatchet San Francisco, CA
9.05.09 Musichead w/ Hatchet Medford, OR
9.06.09 Satyricon w/ Hatchet Portland, OR
9.07.09 Charlie's Bar & Grill w/ Hatchet Olympia, WA
9.08.09 Bit Saloon w/ Hatchet Seattle, WA
9.09.09 Gusto Bar w/ Hatchet Boise, ID
9.10.09 Club Vegas w. Hatchet SLC, UT
9.11.09 Marquis Theater w/ Hatchet Denver, CO
9.12.09 TBA w/ Hatchet Omaha, NE
9.14.09 Memory Lanes w/ Hatchet Minneapolis, MN
9.15.09 TBA w/ Hatchet Milwaukee, WI
9.16.09 Jordan Music w/ Hatchet Kenosha, WI
9.17.09 Beat Kitchen w/ Hatchet Chicago, IL
9.20.09 Waterfront Tavern w/ Hatchet Holyoke, MA
9.21.09 The Meatlocker w/ Hatchet Montclair, NJ
9.23.09 The Charleston w/ Hatchet Brooklyn, NY
9.25.09 Millcreek Tavern w/ Hatchet Philadelphia, PA
9.26.09 The Tavernackle w/ Hatchet Blacksburg, VA
9.27.09 Volume 11 Tavern w/ Hatchet Raleigh, NC
9.29.09 Joey G's w/ Hatchet Madison, IN
9.30.09 Bulldog Café w/ Hatchet Louisville, KY
10.01.09 TBA w/ Hatchet St. Louis, MO
10.02.09 Riot Room w/ Hatchet Kansas City, MO
10.03.09 Bora Bora w/ Hatchet OKC, OK
10.04.09 HELP US BOOK! Dallas/Ft. Worth TX
10.05.09 Stafford Main Street w/ Hatchet Bryan, TX
10.06.09 TBA w/ Hatchet Austin, TX
10.07.09 The Ten Eleven w/ Hatchet San Antonio, TX
10.08.09 Chics w/ Hatchet El Paso, TX
10.09.09 UB's Bar w/ Hatchet Mesa, AZ
10.10.09 Vaudeville w/ Hatchet Tucson, AZ
Rising out of Pomona, in the Los Angeles, Ca. outer suburbs, Bonded by Blood have rapidly emerged as one of the youngest (average age just 18) and arguably one of most proficient of the New Thrash wave of acts pouring out of that city in recent times. Formed in the summer of 2005 by a 17 year old hardcore-punk-thrash driven vocalist (Aladdin), he soon teamed up with like-minded young guitar shredders (Alex Lee and Juan Juarez), then found a drummer influenced by more classic metal (Carlos Cervesa), and finally added a bassist who was more than a little "out there " (RuDo) to round out the line-up.
Although partly influenced by different styles of music, they all met through a love of one genre: THRASH METAL.
The band's prowess was noticed when they won first place in the TNT productions battle of the bands at Riverside, which included over 250 bands. That was no mean feat in a notoriously competitive LA scene- but as a young band starting at the bottom of the food chain, Bonded By Blood knew a solid practise regime was required to hone their razor sharp riffs with one single purpose- to become a respected LA thrash metal band
2 decades on from the origination of the genre, the big 4 have since become part of the regular metal mainsteam, leaving legions of fans starved of the Old-school thrash vibes. Bonded By Blood aim to change all that - and hence lead the pack of bands playing old-school Thrash but with an added energy, fun and youthful vigour, with a modern twist all of their own making. Bonded By Blood are no mere 80's rehash.
After playing a countless number of shows in a short amount of time, BBB began to gather genuine momentum, rapidly amassing a rabid LA fan base, helping the band to play their part in putting the LA New Thrash Wave on the map as undoubtedly one of the most exciting, fast-rising scenes currently in metal. Word spread, and they soon shared the stage with Testament, Flotsam and Jetsam, Sadus, and recently got to play main support to their heroes - Exodus.
Recording-wise, 2006 saw the release of their first demo, 'Four Pints of Blood', which finally showed what Bonded by Blood was all about. BBB got attention from many more fans after promoting that release. August 2007 saw BBB's 'Extinguish the Weak' self-released EP hit the web and the streets, resulting in instant acclaim from the awaiting hordes of thrash fanatics, and label interest was swift to follow, as the spotlight had by then begun to shine on the burgeoning LA Thrash scene.
Weeks before the EP was released however, Bonded by Blood had received an offer from the label which is doing the most to put the new Thrash wave of acts on the global map- Earache Records. So, naturally, in September of 2007, Bonded by Blood and Earache inked for a long-term worldwide recording deal.
Feed The Beast is the first full-length released by Bonded By Blood on May 12, 2008. The artwork for the album was created by Tom Martin of Lich King fame.
Bonded By Blood @
MySpace
Bonded By Blood - Immortal Life
British thrashers
EVILE
have released a brand new track, called "
Infected Nation
", which is available now for
streaming
and
download
.
The new track, which is the first song off the band's highly anticipated upcoming new album,
INFECTED NATIONS
- due on
September 21st
in Europe and
September 22nd
in the USA - is available for streaming at EVILE's official
MySpace
page at
http://www.myspace.com/evileuk
You can download a DRM-free copy of the track to keep and blast as often as you like. Get "
Infected Nation
", available to download as an MP3 as well as a high quality WAV file, at
http://earache.com/infectednation
Lead guitarist
Ol Drake
had the following to say:
"Finally, we can show you a track off the upcoming album '
Infected Nations
', funnily enough the first track being '
Infected Nation
'. It's been very hard to pick out just
ONE
track to initially show the world, as there is such diversity on this album and I wanted to showcase the different direction we're going in. I think '
Infected Nation
' is a good place to start in showing you, as it still has the pure thrash feel to it but with an injection of our new path musically.
"Please do the production justice; download it and play it on some good speakers, not some shitty PC ones (although granted you can't get much out of an
MP3
- the CD will blow it away).
"Can't wait for everyone to hear the mass of variation on the entire album! More news to come so keep your eyes peeled and sign up to the Evile Newsletter at
http://www.evile.co.uk/lists/?p=subscribe
"
Violator was formed in early 2002 by a group of friends from Brasilia, Brazil, keen on playing the old thrash metal, and it has always been like this. Four thrash maniacs - Pedro "Poney Ret" (vc/bs), Pedro Capaça (gt), Márcio "Cambito" (gt) and David Araya (dr) - crazy about Vio-lence, Whiplash and Exodus that breath the spirit and the ways of old school metal.
After a live rehearsal demo (Killer Instinct - 2002), two underground compilations (Metalvox … 1 e Fast Food Thrash Metal both from 2003) and plenty of gigs in all the dirty holes, from Distrito Federal and neighborhoods, Violator got the opportunity to travel to Asuncion and play in the Paraguayan lands. Among that, the band was invited as an opening act for the thrash metal legend, Destruction, and American deathbangers, Malevolent Creation.
In the first months of 2004, the band got in touch with Kill Again Records label through Metal Bloods Editor, Antônio Rolldão. After this union, what was supposed to be a second demo turned into the EP, Violent Mosh. Four songs of intense old school thrash metal, no open for modernity.
The strong label work, together with a hunger for playing live, resulted in over 40 gigs in the next two years. Violator traveled through 10 estates and had the honor to meet thrashers from all over Brazil. The tour for ending the EP promo, Moshing With Violence Tour 2005, took the band across Brazil's north-east and allowed the band to play in the middle of the Amazon Rainforest, in the city of Portel, after facing 20 hours of boat rides.
One of these thrash gigs was recorded for the fist edition of Da Tribo Rock Magazine. It came to stores in all countries, with a DVD that captures Violator's performance in Campinas/SP. Violent Mosh was also the first release from the band outside of Brazil. In a K7 tape version, just like the old 80s bands, the EP was released in Bolivia by Grim Art Productions. This copy was limited edition, with only 666 copies available.
The EP was above all expectations, which lead to another release. This time as a split with one of the greatest Brazilian thrash bands, Bywar. From the union of Violent Mosh and Invincible War, first album from the São Paulo headthrashers, Violent War was born. This brought a Violator special bonus, a version for Taurus Massacre, a historical band from Brazil.
In late 2005, the band got the worst news of all time. Their guitar player, friend and brother, Juan Leda, left the band to continue his studies in Argentina, where his family lives. The farewell show was with Filandian thrashcore band Maniacs of Força Macabra, a gig to remember, with underground spirit and United Forces. Those were feelings that the band always believed.
With Juan out of the band, it did not deter the will of doing thrash, living thrash and breathing thrash. Violator started the beginning of 2006 as a power trio. After six months locked up at Orbis studio in Brasília, the band comes up with the first full-length, Chemical Assault. The album release, in october of the same year, is also the return of the group with two guitars. Márcio Cambito joins the band and brings even more speed to the picks and insanity to the live perfomance. violator are stronger than ever. The violation has just begun!
Check them out on
MySpace
!
Violator - Addicted To Mosh @ Youtube
at this location
. (Note: The interview begins around the two-hour mark.)
Municipal Waste's new album, "Massive Aggressive", is scheduled for release on August 25 via Earache Records. According to a press release, the CD "brings the promise of the band's most ferocious and most focused album of their career." With such ferocity flowing through the whole of the album, the group knew it needed the right visuals to complement the vibe of the music. Foresta claims that the only man who could get that imagery just right was Andrei Bouzikov, the artist responsible for the cover to 2007's "The Art Of Partying".
"We wanted to work with Andrei Bouzikov again because he is like a brother to us;" says Foresta. "He is one of the few people that can tolerate me and Ryan's insane pickiness and attention to detail. Not only that but he is multi talented and can do many different styles of art and understands exactly where we are coming from."
The attitude on "Massive Aggressive" is quite different than any other Municipal Waste record and the band needed the artwork to make it apparent from the very first glance. "We knew we wanted to stray away from the traditional painted covers that so many new 'thrash' bands seem to be doing since 'Hazardous Mutation' came out," says Tony. "We wanted the artwork to go a different direction the same way that our music has. I think we have achieved it." Overall, Tony and the rest of the band feel it's a perfect representation of where the band is today and show much gratitude for how it turned out. "I'm really happy with it. It's my favorite one yet," the frontman says.
Warbringer has announced their addition to Vader's North American tour with the following update:
"We'll be joining Vader in November and December for dates across the US and Canada. Those Polish death metal legends will have a new album out on Nuclear Blast and this will be their first headline US tour in some time. It's a killer tour package called "Monsters of Death" and features Vader, Decrepit Birth, Warbringer, The Amenta, Success Will Write Apocalypse Across the Sky and Augury. Dates are posted on our page so check 'em out and come down to the show and support true brutal metal!!"
The tour dates are as follow:
Vader's "Monsters of Death" North American tour with Decrepit Birth, Warbringer, Amenta, SWWAATS, Augury:
Nov 7, 2009 @ 8:00P - Blender Theatre at Gramercy, New York, New York
Nov 8, 2009 @ 8:00P - FouFounes, Montreal, Quebec
Nov 9, 2009 @ 8:00P - Imperial de Quebec, Quebec City, Quebec
Nov 10, 2009 @ 8:00P - Mod Club, Toronto, Ontario
Nov 11, 2009 @ 8:00P - Penny Arcade, Rochester, New York
Nov 12, 2009 @ 8:00P - Peabody's, Cleveland, Ohio
Nov 13, 2009 @ 8:00P - Pearl Room, Mokena, Illinois
Nov 14, 2009 @ 8:00P - Rave, Milwaukee, Wisconsin
Nov 15, 2009 @ 8:00P - Station 4, St. Paul, Minnesota
Nov 16, 2009 @ 8:00P - Royal Albert Arms, Winnipeg, Manitoba
Nov 17, 2009 @ 8:00P - Exchange, Regina, Saskatchewan
Nov 18, 2009 @ 8:00P - Underground, Calgary, Alberta
Nov 19, 2009 @ 8:00P - Starlite Room, Edmonton, Alberta
Nov 21, 2009 @ 8:00P - Bourbon, Vancouver, British Columbia
Nov 22, 2009 @ 8:00P - Sugar, Victoria, British Columbia
Nov 23, 2009 @ 8:00P - El Corazon, Seattle, Washington
Nov 24, 2009 @ 8:00P - Satyricon, Portland, Oregon
Nov 25, 2009 @ 8:00P - Grand Ballroom @ Regency, San Francisco, California
Nov 27, 2009 @ 8:00P - Jumping Turtle, San Marcos, California
Nov 28, 2009 @ 8:00P - Chain Reaction, Anaheim, California
Nov 29, 2009 @ 8:00P - Key Club, W. Hollywood, Colorado
Nov 30, 2009 @ 8:00P - UB's, Mesa, Arizona
Dec 1, 2009 @ 8:00P - The Rock, Tucson, Arizona
Dec 2, 2009 @ 8:00P - Gator's, Farmington, New Mexico
Dec 3, 2009 @ 8:00P - Club Vegas, Salt Lake City, Utah
Dec 4, 2009 @ 8:00P - Bluebird Theatre, Denver, Colorado
Dec 5, 2009 @ 8:00P - Marquee Theatre, Tulsa, Oklahoma
Dec 6, 2009 @ 8:00P - Scout Bar, San Antonio, Texas
Dec 7, 2009 @ 8:00P - Scout Bar, Houston, Texas
Dec 9, 2009 @ 8:00P - Masquerade, Atlanta, Georgia
Dec 10, 2009 @ 8:00P - Peppermint Beach Club, Virginia Beach, Virginia
Dec 11, 2009 @ 8:00P - Volume 11, Raleigh, North Carolina
Dec 12, 2009 @ 8:00P - Rex Theatre, Pittsburgh, Pennsylvania
Dec 13, 2009 @ 8:00P - Trocadero, Philadelphia, Pennsylvania
Warbringer:
Dec 14, 2009 @ 8:00P - Golden Monkey Tattoo Fredricksburg, Virginia
British thrash metal band Evile will release their new album, Infected Nations, on September 21st 2009 in Europe, and a day later in North America.
Commented Evile frontman Matt Drake: "When we did 'Enter the Grave' two years ago, it was made up of songs we had been playing for a few years and some written in the excitement of actually getting to record an album. We were happy to just be making noise, but since then, we've learnt a few things and we're more interested in making music.
"EVILE fans can expect to hear a more mature offering, an album that concentrates on all aspects of what each member can do; it's a heck of a lot more focused, more satisfying and we're really proud of what we've achieved with it. Russ Russell has helped us to push ourselves to the next level and pull us out of the '80s. The whole retro thing has been cool but we feel it's time for us to leave that behind and stand up for ourselves and show people what we can really do, but fear not, it IS a thrash metal album, it is a 2009 thrash metal album, and we're dying to blow your minds with it."
The new album was produced by Russ Russell with the cover art created by Michael Whelan, famous for his covers of bands such as Sepultura and Obituary.
Commented EVILE lead guitarist Ol Drake: "When we were thinking about artists we could approach for the album's art, we went through many ideas and avenues. One day I was listening to 'Beneath the Remains' by SEPULTURA, and whilst looking at the artwork, I thought how much that simple yet detailed art really compliments the music. I thought, 'How good would it be to get Michael Whelan to do an original piece?' I think Matt said something like, 'Haha yeah, like that'll happen,' so as you do, I contacted his manager and got in touch with him. It turned out he was really interested in the concept of the art and jumped right on board. I think an album's art is just as important as the music on the disc, so I couldn't be happier with it. Can't wait to see it on vinyl (with a backpatch maybe?).
"It's such an honour to have a legendary, outstanding artist work with us on a brand new original piece, when just months previous to it starting, we thought it impossible. Thank you, Michael, for giving the album even more depth and meaning!"
Infected Nations track listing:
01. Infected Nation
02. Now Demolition
03. Nosophoros
04. Genocide
05. Plague To End All Plagues
06. Devoid Of Thought
07. Time No More
08. Metamorphosis
09. Hundred Wrathful Deities
German Thrash hopefuls REZET have signed with Iron Kodex for the worldwide release of the band's scorching debut album "Have Gun, Will Travel" in September 2009.
Despite their young age, REZET have been playing their neckbreaking maniacal brand of old-school Thrash Metal long before the big Nu-Thrash Metal hype of the last two years. Originally formed already in 2003, they have played countless gigs all over Europe, supporting the likes of Flotsam and Jetsam, Tankard, Baphomet's Blood, Gama Bomb or Violator, released four fantastic demo tapes and one EP and made themselves a name because of their insanely energetic live shows. In fact, the band was signed on the spot by Iron Kodex after their incredible gig as a support act during the Portrait / Enforcer tour in spring 2009. Fueled by old Slayer, Violent Force, Assassin and booze REZET will go straight for your throat. Prepare for a violent autumn!
"Have Gun, Will Travel" will be released on CD on September 4th 2009. The vinyl version will follow soon after. Artwork will be done by Halseycaust herself. Here's a video from a live show:
http://www.youtube.com/watch?v=9-hltvczw7s
And the band's myspace as well. Check them out!
www.myspace.com/rezetband