As some of you know we are returning to the studio this month to record the follow up to 2008's CITIZEN BRAIN.The new LP, TALES FROM THE GRAVE IN SPACE will be released online on Nov 5th for FREE!

So anyone,anywhere can grab this sucker on Nov 5th completely free of cost at:



http://www.earache.com/gamabomb



want to know why?check out Philly's rant:



http://www.youtube.com/watch?v=Y0jFPO4leVQ




I will post the tour dates as they come in starting with:

UK/EURO headlining dates

05 Nov 2009 - Huddersfield, UK - Parish
06 Nov 2009 - Birmingham, UK - Hellfire Festival, NEC Arena
07 Nov 2009 - Peterborough, UK - Club Revolution
08 Nov 2009 - London, UK - The Underworld
09 Nov 2009 - Bristol, UK - Bier Keller
11 Nov 2009 - Nottingham, UK - Seven
12 Nov 2009 - Colchester, UK - Twist
21 Nov 2009 - Hamme, Belgium - Hammerfest
28 Nov 2009 - Giessen, Germany - Thrash Inferno Festival, Hessenhalle
Pittsburgh, Pennsylvania-based old-school metallers MANTIC RITUAL have parted ways with singer/guitarist and founding member Dan Wetmore.

Commented the band in a statement: "After much consideration, Dan has decided to no longer continue with MANTIC RITUAL. We are greatly appreciative of his tremendous contributions to the band and wish him the best in his future endeavors.

"For the upcoming tours this fall, our good friend Dave Watson will be filling in as singer/guitarist. We've known Dave for quite some time, and besides being a killer musician, he's an outstanding sound engineer as well (he mixed our 2007 self-released demo, 'Executioner'). We have no doubt that Dave will be a perfect fit for us these next few months, and that the band will continue delivering fist-pumping rock 'n' roll like it's 1955."

Added Dan Wetmore: "It has been hard for me to make this decision as I love Adam, Ben, and Jeff and the music we've made together. I've always been dedicated to the band and truly enjoyed playing and writing material. Still, I've had the desire to focus on photography for quite some time and I don't see myself spending life on the road. It is my personal choice to leave the band and return to school. Despite conflicting feelings, I know currently this is the best decision for me. The outcome is very hard to face, as I've enjoyed the past five years and progress we've made. I'm sure some might think I'm crazy or stupid, but I'll eat that. The guys are dedicated and I'm positive they'll do well with Dave taking my place. All the best to them, they're my pals."

All scheduled shows will take place as planned.
GENERATION KILL
, the new crossover outfit featuring
EXODUS
frontman
Rob Dukes
, has released its first demo track,
"Hate"
, via the band's official MySpace page:
http://www.myspace.com/officialgenerationkill


According to a press release,
GENERATION KILL
— whose lineup also includes
Rob Moschetti
(ex-
PRO-PAIN
,
M.O.D.
) on bass and
Sam Inzerra
(
MORTICIAN
) on drums — is currently in the studio working on more material and preparing to do a small East Coast tour later in the year.

Commented
Moschetti
: "I think this is the best shit I have ever done. If you like the studio recording, prepare to be blown away by our live show."


GENERATION KILL
is:


Rob Dukes
- Vocals

Rob Moschetti
- Bass/Backing Vocals

Lou Lehman
- Lead Guitar

Jason Trenczer
- Lead Guitar

Sam Inzerra
- Drums

According to
GENERATION KILL
's official bio, "The original concept of the band was to break away from the current formula. By embracing their roots and incorporating them into the project,
GENERATION KILL
is a true crossover band. Each song has its own identity, and mood, which gives the band its original sound without abandoning their influences.

"By adding two lead guitarist/song writers to the band, a whole new dimension has been introduced to
GENERATION KILL
. While
Jason Trenczer
adds technical guitar work,
Lou Lehman
adds catchy riffs and solos.

"The final ingredient to the band is veteran drummer
Sam Inzerra
.
Sam
has a death metal background which adds speed and power to the project. Each member of the band takes part in the writing process. While each member has established himself in legendary and underground bands, let it be known that this is no side project."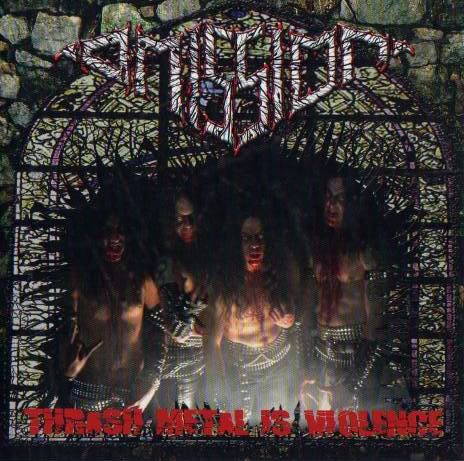 Here are samples from every song of the upcoming Skeletonwitch album Breathing the Fire:


http://www.amazon.de/Breathing-Fire-Skeletonwitch/dp/B002IJQ3FC/ref=sr_1_2?ie=UTF8&s=music&qid=1253277199&sr=8-2



Greek old-school thrashers
SUICIDAL ANGELS
and Swedish metallers STEELWING (formerly SCAVENGER) have been awarded record deals with
Boomer Entertainment
and
Nuclear Blast Records
as part of a band contest launched by the Austrian management and booking company
Rock The Nation
.

This unique competition was presented and promoted by all leading European metal magazines, including the German, Italian, Spanish and Greek editions of
Metal Hammer
;
Terrorizer
(U.K.);
Metallian
(France);
Scream
(Norway);
Rock Tribune
(Belgium);
Spark
(Czech Republic); and the Dutch webzine
LordsOfMetal.nl
.

"The high interest [exceeded] all our expectations," says
Rock The Nation
boss
Stefan Hattinger
. More than 1,200 bands from all over the world participated in the contest, and hundreds of thousands of votes were counted. "It made the
RTN Award
a tremendous success and proves that this is what the bands have been waiting for," he adds.

The 100 bands with the most votes were judged by an "inner circle" composed of staff members from
Rock The Nation
,
Boomer Entertainment
and
Nuclear Blast
. In the end, there wasn't only one, but two winners!

"We are more than happy to win this contest," says
SUICIDAL ANGELS
vocalist and guitar player
Nick
. "We will do our best to reciprocate all the trust we received.

"We would like to thank
Stefan
and
Rock The Nations
, all the guys from
Boomer Entertainment
and
Nuclear Blast
for giving us this unique opportunity.

"Prepare to be thrashed, thrash till death!"


http://www.myspace.com/suicidalangelsgreece
We are working on a reunion for next year with the one and only Albert Gonzales on guitar!! Right now, plans are to play in Europe next year and we'll see what happens in the interim. I can't wait! It's going to be amazing!

For the time being please check out :
EVILDEAD RADIO-
Evildead will be featured this Saturday on KKSM Radio here's the link:
http://www.palomar.edu/kksm/
between 10PM - 2AM (streams on the internet).

More news to follow!
Excited!
-Rob
http://www.myspace.com/viothrash


A new song is available on their myspace page, entitled Deadly Sadistic Experiments.
They've been around for a while but only just now put a song up, and it's pretty tasty. Check it out. Sounds kinda like late-era Sepultura, but not in a bad way. Chaos AD-ish.


http://www.myspace.com/nuclearhecatomb
MUNICIPAL WASTE has recently announced the "WASTE THE WORLD TOUR 2009" with support from GOATWHORE from 11/06-11/16, THE ACCUSED from 11/18-12/03, BRUTAL TRUTH from 12/04-12/11, PHOBIA and CAULDRON on all tour dates. The complete schedule including some new dates is as follows:
11/06 - Raleigh, NC @ Volume 11 Tavern
11/07 - Atlanta, GA @ Drunken Unicorn
11/08 - Orlando, FL @ Backbooth
11/09 - Tampa, FL @ State Theater
11/11 - Houston, TX @ Meridian
11/12 - Austin, TX @ Red 7
11/13 - Oklahoma City, OK @ Conservatory
11/14 - Denton, TX @ Rubber Gloves
11/16 - Tempe, AZ @ Clubhouse
11/18 - San Diego, CA @ The Casbah
11/19 - Los Angeles, CA @ Key Club
11/20 - Anaheim, CA @ Chian Reaction
11/21 - San Francisco, CA @ Slim's
11/23 - Portland, OR @ Satyricon
11/24 - Seattle, WA @ El Corazon
11/25 - Bellingham, WA @ Wild Buffalo House of Music
11/27 - Edmonton, AB @ The Starlite Room
11/28 - Calgary, AB @ The Warehouse
11/29 - Winnipeg, MB @ Pyramid Cabaret
12/01 - Minneapolis, MN @ Triple Rock
12/02 - Chicago, IL @ Subterranean
12/04 - Detroit, MI @ Magic Stick
12/05 - Cleveland Heights, OH @ Grog Shop
12/06 - Toronto, ON @ Opera House
12/07 - Montreal, QC @ Foufounes
12/08 - Worcester, MA @ Palladium (Upstairs)
12/09 - New York, NY @ Gramercy Theater
12/10 - Philadelphia, PA @ First Unitarian Church