Check it out at their
MySpace.
Infidel
. Enjoy!
Check out the myspace and perhaps buy some of their merch?
http://www.myspace.com/atwartheband
Sep. 10 - Mesa, AZ - U.B.'S
Sep. 11 - Las Vegas, NV - Cheyanne Saloon
Sep. 12 - Sparks, NV - New Oasis
Sep. 17 - Portland, OR - Satyricon
Sep. 18 - Seattle, WA - El Corazon
Sep. 19 - Bend, OR - Midtown Ballroom
Sep. 24 - Ramona, CA - Ramona Mainstage
Sep. 25 - Anaheim, CA - Chain Reaction
Sep. 26 - Palmdale, CA - The Crossing
Sep. 28 - Syracuse, NY - Lost Horizon
Sep. 29 - Allentown, PA - Crocodile Rock
Sep. 30 - Pitt, PA - Diesel
Oct. 01 - Cleveland, OH - Peabody's
Oct. 02 - Detroit, MI - Blondies
Oct. 04 - St Louis, MO - The Firebird
Oct. 05 - Waterloo, IA - Spicoli's
Oct. 06 - Lincoln, NE - Knickerbockers
Oct. 14 - Jacksonville, FL - Jack Rabbits
Oct. 15 - Tampa, FL - Brass Mug
Oct. 16 - Orlando, FL - Lyrica
Oct. 17 - Ft Lauderdale, FL - Culture Room
And remember, D.R.I. is touring this month as well. Those dates are as follows:
March 05 - Hooligans Pub & Music Hall - Jacksonville, NC
March 06 - Volume 11 - Raleigh, NC
March 18 - Key Club - West Hollywood, CA
March 19 - Akebono Theater - Big Island , HI
March 20 - Oceans Beach Bar and Grill - Kihei, HI
March 21 - Alter Solum - Honolulu, HI
March 26 - Masquerade - Atlanta, GA
March 27 - The Muse - Nashville, TN
Bay Area forefathers of thrash EXODUS will be releasing their ninth studio album, Exhibit B: The Human Condition, this spring. Guitarist / songwriter Gary Holt checks in about what the band was looking to capture art-wise and why the final version chosen nailed it:
"We wanted to portray the violence of man at its finest, so we started with our own version of the Leonardo da Vinci sketch [of Vitruvian Man], but done the 'EXODUS' way! I was pointed in the direction of Colin Larks of Rainsong Design for the cover and he killed it! To me, the artwork represents man and his affinity for bloodshed, ignorance, and all-around ability to be led like sheep to the slaughter. The image fits the songs on this record perfectly. The whole layout is going to as sick as the record itself!"
Exhibit B: The Human Condition was recorded this past December in Northern California with producer Andy Sneap (Megadeth, Arch Enemy, Kreator).
EXODUS will be performing throughout the U.S. and Canada on Megadeth's Rust In Peace 20th Anniversary Tour with labelmates TESTAMENT. Confirmed tour dates are as follows:
3/1 - Spokane, WA - Knitting Factory
3/2 - Boise, ID - Knitting Factory
3/3 - Medford, OR - Medford Armory
3/6 - Calgary, AB - Big Four
3/7 - Edmonton, AB - Shaw Conference Centre
3/8 - Saskatoon, SK - Prairieland Exhibition Hall
3/11 - Indianapolis, IN - Murat Theater
3/12 - Pittsburgh, PA - Palace Theater
3/13 - Buffalo, NY - Town Ballroom
3/15 - Washington, D.C. - 9:30 Club
3/16 - Baltimore, MD - Rams Head Live
3/18 - Scranton, PA - Scranton Cultural Center
3/19 - Norfolk, VA - The NorVa
3/21 - Atlanta, GA - Tabernacle
3/22 - Asheville, NC - Orange Peel
3/23 - Memphis, TN - Minglewood Hall
3/25 - Houston, TX - Verizon Wireless Theater
3/26 - Austin, TX - Stubb's Amphitheater
3/27 - Lubbock, TX - The Pavilion
3/28 - El Paso, TX - Club 101
3/30 - Tucson, AZ - Rialto Theater
3/31 - Hollywood, CA - Hollywood Palladium
http://www.myspace.com/abadden
Abadden are a new thrash band from the UK. Their first album, 'Sentenced To Death' is due out in March of 2010.
Personally, I'm not too keen on the vocals but everything else kicks ass!
"We're happy to anounce that KREATOR has just signed a new long-term deal with Nuclear Blast! Based on a friendship with Andy Siry (head of A&R of Nuclear Blast) that lasted for decades we will now finally join forces on a professional level! Becoming a part of the Nuclear Blast family means a lot to us and together with the world's biggest metal label we will conquer the future!"
Added Andy Siry: "For me another 'thrash dream' has come true with the signing of Germany's finest and Europe's leading thrash legends KREATOR!!! I still remember the day when I heard "Endless Pain" for the first time, I became a huge fan of the band. I have been following KREATOR through their career and I built up a very good friendship with Mille. The last years I have been working very hard to make it possible that KREATOR would join the Nuclear family. Together we are looking into a very bright future in which we will be leading KREATOR onwards to world domination!"
http://www.myspace.com/fatalrules
for the tour date information!
So we are officially beginning to record a new EP in 2 weeks from today! We are shooting for 4 new songs, but we may only have enough time (or you could say money) to do the fourth. Either way, you will not be disappointed! This recording will be done almost all DIY (drums, are the exception), in hopes of getting a more raw sound. We will have the songs up as soon as they are complete, and hopefully, if I remember, I will give updates on that date here!
Also, I'm pretty positive we will have this EP all printed up nicely along with some other merch for our tour this summer for all you collectors!
If you have Facebook,
become a fan of Fatal!
http://www.myspace.com/psychosisthrash
Psychosis is:
Bruce Hall (Agent Steel) - Vocals
Kragen Lum (Heathen, Prototype) - Guitars
Vince Levalois (Prototype) - Guitars
Jason Mirza - Bass
Jimmy Schultz (New Eden) - Drums
"Finally finished our new EP, figured I'd post it here in case you guys want to download it so you can check it out, let me know what you think, play it on your ipod and whatever. It's free (we haven't gotten it pressed and when we sell it it would be either super cheap or just shipping costs in case people want a physical copy) so if you could spread the word, write a review, post it on some metal blogs or something that'd rule. No Dan Seagrave this time but the art looks pretty sweet I think and goes along with the more modern sounding production and sort of dark atmosphere, works pretty well I think."
Megadeth front man Dave Mustaine has issued the following statement regarding the set list for their upcoming "Rust In Peace" 20th anniversary tour, which will feature former Megadeth bassist David Ellefson:
"Droogies! Happy Valentine's Day! I thought that Happy VD was a bit funny, but I really wanted to stop and take the time to thank you all for your support and especially thank all of the ticket holders for the RIP tour cities that have already sold-out. Rehearsals are all done and we are ready for pre-production next week, and then we will be heading out to start the tour. Please send your prayers, best wishes, and positive thoughts our way, and if we are playing in your city or town I sure hope to see you. A big thank you goes out to all of the cities that are sold-out already!
"Just so you know, we are playing 10 songs from over our 25+ year careers, as well as all 9 songs off of RIP.
"We are playing:
Set The World Afire
Wake Up Dead
In My Darkest Hour
Sweating Bullets
Skin O' My Teeth
Head Crusher
A Tout Le Monde
Symphony Of Destruction
Trust
Peace Sells, But Who's Buying?
(and all of RIP)
"One great thing is that we all know so many, many songs, and that this is just the starting point. Remember, David Ellefson knows everything of Megadeth's career, excluding a few new tracks, Shawn knows them all, and Chris is learning them as fast as he can. All in all, I think that we have approximately 40 songs we can do on this next month's tour. We will return to the Endgame Tour after that, and may play any of the RIP tracks over the coming years. We already play several songs off of RIP; Holy Wars, Take No Prisoners, Tornado Of Souls, and Hangar 18. It will be fun to have some new gems added to our set list, and also the possibility of us revisiting songs that I mentioned were added to our playlist for potential songs to perform from KIMB or PSBWB.
"I have to get going now to get to the studio to start mixing the new track that I have been working on. I am not sure if the party I am doing this for has said anything lately, because I have been in my studio 20,000 leagues under the sea, and haven't seen any news lately. I do know that we will be describing the track and the people who I wrote this for very soon. Have a great day today, and I hope that all of you and your nice red hearts are going to be pumping people all day today with love and kindness, especially for the people you love. Of course tomorrow, you can go back to hating their guts."
Some drum and guitar action:
Alex recording some leads (SWEET):
Brazilian Thrash maniacs Violator revealed cover and track list of Annihilation Process CD. Cover art was designed by artist Andrei Bowzikov (Nocturnal Graves, Municipal Waste, Amebix, Fueled by Fire, Cannabis Corpse , Sewer, Voetsek and more)
Track List:
01- Poisoned by Ignorance
02- Uniformity is Conformity
03- Give Destruction or Give me Death
04- Apocalypse Engine
05- Deadly Sadistic Experiments
06- Futurephobia
07- You'll Come Back Before Dying (Executer)
Headthrashers wait for a true Thrash Annihilation !!!


Hey guys,

we are LOST WORLD ORDER from Bielefeld, Germany, and we play Endzeit-Thrash Metal!

Our new album "Marauders", recorded at the Soundlodge-studio, will be released on vinyl in early 2010, coming in a gatefold with splatter-vinyl and a free patch.

You can also download the whole album including a booklet FOR FREE from our homepage!

If you like the stuff, it would be great to see you spread the news. Help us to spread the name LOST WORLD ORDER!

If you are a concert-booker, don't hesitate to get in contact with us, too.

Thanx a lot for your help and sorry if you see this as spam.

We look forward to your feedback!

Support Endzeit-Thrash Metal!

Download here - http://www.lostworldorder.com
http://www.myspace.com/lwothrash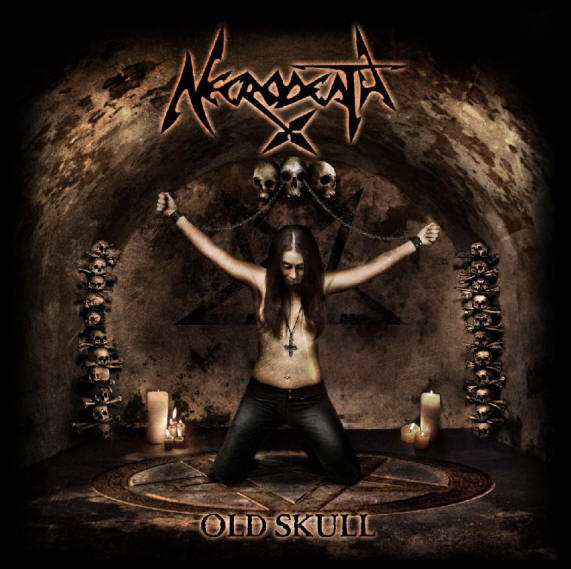 Necrodeath will be releasing a cover album called Old Skull. Well, it has two versions of one of their own songs as well, but I consider this to be a cover album. It will be released in february 5.
Tracklist:
1. Mater Tenebrarum (2010 version)
2. Black Magic (Slayer cover)
3. Raise the Dead (Bathory cover)
4. Pleasure to Kill (Kreator cover)
5. Paranoid (Black Sabbath cover)
6. Sodomy and Lust (Sodom cover)
7. Bloodlust (Venom cover)
8. Ace of Spaders (Motörhead cover)
9. Am I Evil? (Diamond Head cover)
10. Mater Tenebrarum (1985 version)
Guest musicians:
Claudio (ex-Necrodeath) - Guitar on Raise the Dead
A.C. Wild (Bulldozer) - Vocals on Mater Tenebrarum (2010 version)
Andy Panigada (Bulldozer) - Guitar on Ace of Spades
Andy Bonfiglio (ex-Necrodeath) - Guitar on Am I Evil
Alberto Penzin (ex-Schizo, Mondocane) - Bass on Sodomy and Lust
John (ex-Necrodeath, Raza de Odio, Cadaveria, Dynabite) - Bass on Black Magic
The "Black Magic" cover can be heard at
their MySpace.
CHECK OUT WITCHAVEN'S PROFILE FOR NEW TRACKS OFF OF THE ALBUM
http://www.myspace.com/witchaven
for "Parasites Die". The track is from their debut EP, "Stillbirth of
a Nation", which was listed as one of the top 5 demos of 2009 by
Decibel Magazine.
The video will make its proper debut on Friday, February 19, at
Headhunters in Austin, which was the site of the shoot. Club manager
Billy Milano will be on hand to showcase Birth A.D. along with Texas
stalwarts Rotting Corpse, Sarcolytic, and newcomers Hexlust.
Birth A.D. will also appear in support of D.R.I. on Sunday, February
21, at Emo's in Austin.
The video for "Parasites Die" can be seen below.
Birth A.D. website: http://www.birthad.com
CALIFORNIA THRASHERS WITCHAVEN AND HATCHET JOIN FORCES FOR A TOTAL DESECRATION OF THE STATES
WE SHALL COME TO A TOWN NEAR YOU!!
SPREAD THE WORD!!!
CHECK OUT THE BANDS PROFILES FOR MORE INFO AND DETAILS ON SHOWS
http://www.myspace.com/witchaven
http://www.myspace.com/hatchet2006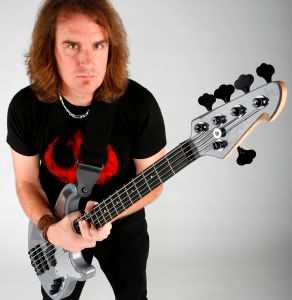 Greetings Droogies, Rattleheads and Everyone Around the World!
It is great to be back in MEGADETH! As you can imagine, it's been quite a week getting back in the saddle with a gazillion things to get a handle on before we hit the road.
We are rehearsing for the upcoming "Rust In Peace" 20th Anniversary tour this week at Vic's Garage, and I must say, the songs are ripping! Dave and I sound like we haven't missed a beat. We have a special style we've created together over the years and it just fell right back into place instantly. I've definitely missed his ferocious guitar playing....no one does it quite like him.
Chris Broderick is a fantastic player and Shawn Drover lays down a nice pocket that keeps the songs sounding like the records, which makes them a treat to play to. Overall, the studio is a great hang and kind of like a music boot camp with guitars, amps and drums at our disposal so we can always be playing and working on tunes.
As always, there are gear needs to sort out before a tour, especially with music this demanding and particular. The crew is working very hard to get the details in order now to ensure an amazing show.
I want to thank you all for your overwhelming support, congratulations and excitement on my return back with the band and I look forward to seeing you all at the upcoming shows. Be ready for "The Punishment Due"!
David Ellefson
Overkill
, can be viewed below. The clip was shot on January 9 in Brooklyn, New York with director Kevin Custer (Hatebreed, Testament, Suffocation).
Evile welcomes new bass player Joel Graham, after the untimely passing of Mike Alexander. They are currently on tour in Europe and then will be heading over to North America for their first tour out west.
National Suicide is an Italian thrash metal band formed in 2005.